Thursday, March 9, 2017 / by Mike Shoaff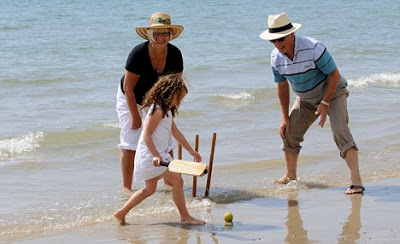 Are you happy? Like, really happy? If not (and, hey, we truly feel your pain), one solution may be as simple as packing up and moving to a more peaceful place. According to the latest results of the Gallup-Healthways Well-Being Index, an annual study that measures contentment levels in all major U.S. cities, the happiest folks in America can be found in … Naples, FL! And now they have even more reason to be thrilled!
This is actually the second year in a row that Naples topped the list, followed this year by Barnstable, MA, and Santa Cruz, CA. Many of the happiest communities—judged by a variety of factors such as social cohesiveness, financial security, and even how often its inhabitants try new things—hail from California (seven in the top 25), Colorado (three), and Texas (three).
As for the most miserable areas? Rest assured, Gallup checked for these pits of despair, too. The "winners" here: Montgomery, AL. That's followed by Erie, PA, and Beaumont, TX. Behold the happiest and most miserable communities below:
Happiest cities
2. Barnstable, MA
3. Santa Cruz, CA
4. Honolulu, HI
5. Charlottesville, VA
6. North Port, FL
7. San Luis Obispo, CA
8. Lynchburg, VA
9. Hilton Head, SC
10. Boulder, CO


Unhappiest cities
1. Montgomery, AL
2. Erie, PA
3. Beaumont, TX
4. Chico, CA
5. Flint, MI
6. Canton, OH
7. Topeka, KS
8. Huntington, WV
9. Hickory, NC
10.Fort Smith, AR
Why certain cities are happier than others
So why is Naples so darn happy? Chalk it up to the area's killer combo of great weather, wealth, and health.
"Collier County, where Naples is located, has the highest per capita income in the state," explains real estate attorney Bob Tankel. "Keep in mind that boxer Joe Louis once said, 'I don't like money very much, but it calms my nerves.' Collier County also ranks second in health outcomes and third in length of life. So money may not buy happiness, but if you have money and health, there's little reason to be unhappy."
America's top three happy hot spots also have something else in common: They're major vacation destinations. So who wouldn't want to kick back in paradise year-round rather than for a measly one or two weeks?
"The Naples/Marco Island corridor is a resortlike environment that helps people feel good every day," says Florida Realtor®
Mike Shoaff
. "With gorgeous beaches and an abundance of activities on the water as well as land, it's manageable in size, too. There are a lot of retirees and snowbirds who call this area home at various times of year."
Meanwhile, Barnstable also boasts beaches, a proud sense of tradition (it's the Kennedy clan enclave, after all), and plenty of small-town New England charm. Santa Cruz, yet again, has sand, surf, and mountains, as well as plenty of open-minded West Coasters. What's not to love?
As for the hellholes, the oft-lousy weather plays a large role.
"The unhappiest cities tend to have more uncomfortable climates such as very hot and humid, like Southern locations, or go through weather extremes like the Midwest, where they're cold in the winter and hot in the summer with bad storms and tornadoes," says
Shoaff
.
These miserable cities also tend to have limited opportunities in terms of careers, social contacts, and recreation.
"The better climates drive job growth due to tourism or businesses that want to relocate there," Shoaff explains. "This draws newcomers to the area, who are open to meeting new people and hence want to bring their time, talent, and energy to the community instead of looking for a way out. One factor continues to feed the other and so on. There is definitely a chain reaction of positive or negative things that can come of geographic locations considered more desirable versus others."
All that said, if there's a silver lining to living in an unhappy place, it's that real estate there is a deal! Case in point: The median listing price for a home in "happy" Naples is $400,000; for down-and-out Montgomery, it's a mere $129,000 (check out how your own area stacks up at
http://www.napleshomesearcher.com/homevalue
).
So cheer up! If that's not some sorta reason to be happy, we don't know what is.