Monday, May 23, 2022 / by Mike Shoaff
Naples, FL (May 23, 2022)
– Overall inventory in Naples during April increased 16.5 percent to 1,668 properties from 1,432 properties in April 2021. Fueled by a swell of new single-family home listings, up 5.7 percent over last year, broker analysts reviewing the April 2022 Market Report by the Naples Area Board of REALTORS® (NABOR®), which tracks home listings and sales within Collier County (excluding Marco Island), are confident the Naples area housing market has reached a crossroad and is making its turn toward a balanced and healthy market.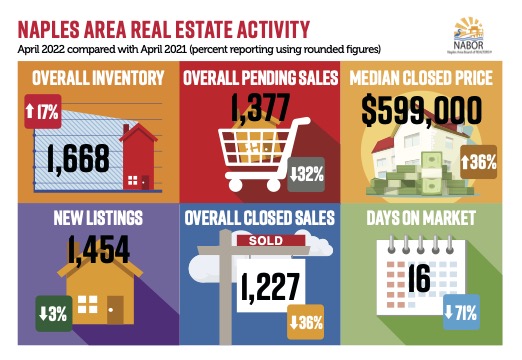 The overall median closed price in April increased 39.2 percent to $599,000 from $440,000 in April 2021. The uptick reflects the low number of sales in the $300 and below price category. Median closed prices continue to rise in the single-family home market, up 8.7 percent from March, but median closed prices during April in the condominium market decreased 1.1 percent from March.
The NABOR® April 2022 Market Report provides comparisons of single-family home and condominium sales (via the Southwest Florida MLS), price ranges, and geographic segmentation and includes an overall market summary. NABOR® sales statistics are presented in chart format, including these overall (single-family and condominium) findings for 2022:
Rising mortgage rates are likely reducing the number of buyers who can get pre-qualified for a home purchase in Naples, but it did not negatively impact buyer interest during April. In fact, there were over 200 more showing appointments during the month than reported in March, and 66.7 percent of all closed sales in April were cash sales.
With that being said here's some advice to sellers:
*Price accurately for the location, condition, age and improvements to your home. Otherwise, you will be noted as "overpriced" and you will sit on the market. We are not falling off of a cliff but, there is a leveling off underway at this time.
*The market is going to tell you very quickly if you are priced competitively. If you are not getting interest and showings, then you are asking too much. If you list on the lower side, you will attract multiple offers and end up at market value.
*Get advice and consultation from more than one
Naples real estate agent
. It is critical to have true information and honesty to make a good decision for the sale of your home. Your listing agent must have their "finger on the pulse" and be forward looking. This is not yesterday's market.
*Presentation of your home or condo is important. Sticking it in the MLS system with photos from someone's iPhone is not marketing for the best outcome.
*Timing is everything. Seriously. Do you want to be the only one in your neighborhood to be on the market for sale or do you list while a dozen neighbors are trying to sell? And then your neighbors start reducing their list prices.
Here's some advice to buyers:
*Be patient as inventories will improve but be ready to take decisive action at a moment's notice.
*Don't make the mistake of thinking that the longer you wait, the more it is to your advantage. You will be left behind empty handed.
*When a home or condo comes on the market that meets all of your criteria and represents value to you, jump on it. There are still plenty of other buyers out there who are looking at the same properties for the same reasons.
*Give value to the things that are priority to you and you cannot change. In other words, if location, view and pet friendly are the most important factors then keep those as the "must haves". Replacing flooring or renovating a kitchen are things you can change.
*June through October is going to be a good time to be a buyer. More inventory, less competition and motivated sellers.
*Timing is everything. The right place at the right price comes on the market for sale…….do you write a contract on Day One? Or do you wait until three other buyers are interested and now you have to compete?
* Choose the right Real Estate Agent to work with who knows the overall market and knows all the various communities. A full time
Real Estate Agent who lives in Naples
should know all the ins and outs of every community.
If you'd like to discuss your upcoming real estate needs in the ever-changing market, whether you are considering buying or selling, you can reach out to me at 239-298-9903.
MIKE SHOAFF
RE/MAX Blue Skies
239-298-9903
Voted one of the Top Producing
RE/MAX Agents in Naples, FL
---