Friday, August 19, 2022 / by Mike Shoaff
One of the easiest and least expensive updates you can make to your home is painting. For most homeowners, it is something that can be accomplished with little to no expertise and without expensive tools. By purchasing the desired paint and a few basic supplies, you can make a big change to a room or your entire home.
Selecting paint can be challenging though. Flat, satin, semigloss and glossy paints are just a few of your choices. When you settle on a kind of paint, there are many brands to select from and then the choice of color. With thousands of different shades of paint to select from, you may think you will never make a choice. Where do you start to narrow down your selection to the perfect paint for you?
Start by considering the area you are painting. High traffic areas like kitchens and bathrooms or doors with lots of use will do best with a semi-gloss or glossy paint. It is also great on cabinets and trim. Flat and satin paints will be better in adult bedrooms or dining rooms that have less activity. Once you narrow down where you are painting, select the color family you want to work from. Attempting to select a paint color from all of your options will drive you crazy so narrow it down a little so you are comparing 50 colors instead of 500 colors.
After you select a color family, head to the store to see some options. Remember, don't pick your paint in the store. Take it outside and take it home. Look at the color swatches outside and in your home. The natural light and the lights in your home can make the colors look very different so don't skip this step. It's also a good idea to look at the colors with any existing furnishings to make sure they look good together.
After you have looked at the color in multiple lights, sit on it for a few days. Paint doesn't have to last forever but if you are going to spend the time to repaint, you probably want it to stick around for a little while.
After you have selected the perfect paint, take your time to prepare your surface correctly and properly apply the paint. Consider painting an investment in your home and remember that anything worth doing is worth doing well. If your intent is to select the cheapest paint and get it on the walls as quickly as possible, that will be evident when you look at it. Your home may be better off left untouched then to paint in a rush and leave it looking less than perfect.

My suggestion when choosing a color is easy:
IF you plan on living in the home and enjoying it for years to come, by all means paint it whatever color makes you feel good.

IF you plan on selling the home or living in the home for short period of time be careful on the colors you choose. Stay away for colors and keep it natural. My suggestion to all my clients is to keep it simple and to go to a few new construction model homes to get some ideas on popular colors and staging.

My top colors that I have seen the majority of my buyers love are:

Agreeable Gray (top for 2021-2022)
Accessible Beige (top for 2021-2022)
City Loft (top for 2021-2022)
Repose Gray
Alabaster
Pure White
Snowbound
Mindful Gray
Kilim Beige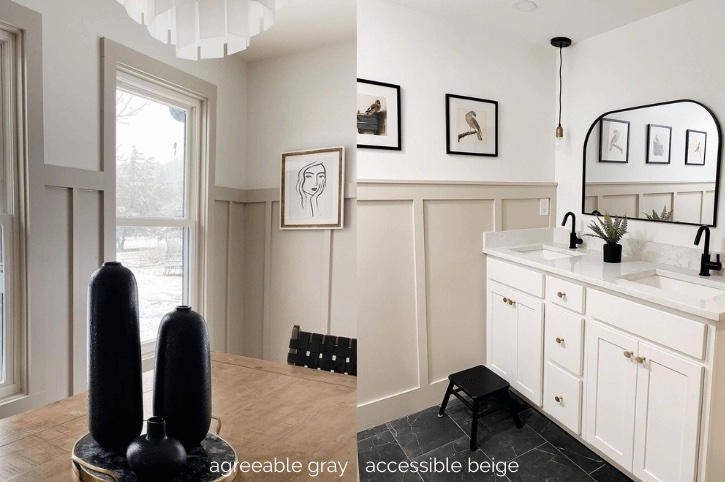 If you have any questions about popular paint colors or tips on refreshing your property or how to sell your home in Naples contact Mike Shoaff with RE/MAX in Naples.