Wednesday, November 8, 2023 / by Mike Shoaff
Bayfront Condos in Naples
Nestled amidst the charming streets and vibrant atmosphere of Old Naples, Bayfront Condominiums stands as a testament to refined living and captivating architecture. Situated at the convergence of Goodlette Frank and 41, this upscale haven offers an unparalleled lifestyle experience, infused with the essence of coastal living and the allure of luxury.
From the moment you step onto Bayfront's cobblestone pathways, you'll be captivated by the vibrant colors of its European-inspired architecture, a true landmark that sets the tone for an unforgettable experience. As you stroll along these charming paths, you'll discover an array of galleries and boutiques, each offering unique treasures waiting to be discovered. The tantalizing aromas wafting from the neighborhood's acclaimed restaurants will beckon you to indulge in culinary delights that tantalize the senses.
Bayfront Condominiums' final phase presents a rare opportunity to own a piece of this exclusive enclave. Here, you'll experience the epitome of luxury, with spacious residences designed to seamlessly blend contemporary style with the timeless appeal of Old Naples. Each residence boasts breathtaking views of the Gordon River, creating an intimate connection with the natural beauty that surrounds you.
Beyond the allure of its architecture and residences, Bayfront offers a wealth of amenities that cater to every lifestyle. The development's private marina, with its 42 slips for sale or lease, provides a haven for boaters seeking a tranquil retreat. The sparkling swimming pool, the well-equipped community center, and the tennis courts cater to those seeking active pursuits, while the under-building parking ensures effortless access for residents.
For those seeking a vibrant blend of shopping, dining, and entertainment, Bayfront is ideally situated. Tin City, a bustling marketplace teeming with shops and restaurants, lies just a short walk away. Venture further to Fifth Avenue South, where an array of upscale boutiques, delectable eateries, hotels, and a theater await.
Embrace the charm and sophistication of Bayfront Condominiums, where luxury living seamlessly blends with the vibrant spirit of Old Naples. Contact Mike Shoaff, the premier real estate agent in Naples, and explore the last remaining opportunity to own a residence in this exclusive enclave. Together, discover the essence of Bayfront and embark on a journey of unparalleled living.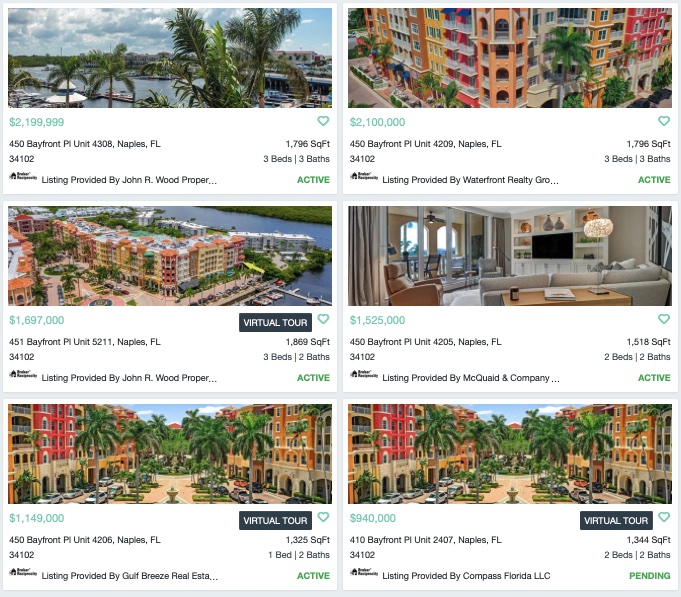 For more details on this property and other luxury properties, contact the best real estate agent in Naples, Mike Shoaff, at 239-298-9903